Requisition ID:
R-2682
Job Category:
Racquet Sports
Job Type:
Full Time
Job Location:
2211 Waukegan Rd
Deerfield, IL 60015
Share This Job On:
Apply Now
Adult Tennis Supervisor Job in Deerfield
Midtown is looking for an Adult Tennis Supervisor to engage members and foster their love of tennis.
The Position
We opened our doors 50 years ago as Chicago's first indoor tennis club. And we've been leaders in tennis ever since. Our goal has always been to improve the game of tennis and we've moved the needle forward in so many ways. Our founders have been a part of making the game accessible to as many people as possible through multiple ways, from creating Tennis in No Time, designed to teach adult beginners to play tennis and developing the Junior Development Program that became the USTA model of 10 and under tennis, we want the world to have the same love of tennis that we do. Our tennis professionals are some of the best in the game and we want them to bring their enthusiasm and skill to the courts.
The Adult Tennis Program Supervisor is responsible to:
· Be the spiritual leader for the adult tennis programs: Adult Group Classes, Tennis in No Time (TNT), and Cardio Tennis.
· Manage all aspects of the adult tennis programs including participation recruitment, registration, preparation of class lists, attendance tracking, make-up scheduling, promotion of groups, scheduling of coaches and courts, organization of special events and preparation of reports
· Play an leading role in supporting the Racquet Sports Manager by assisting the TNT trainings, parties and marketing/membership meetings
· Cooperate with the Racquet Sports Manager for scheduling, staffing and planning of adult group programs
· Teach adult and junior private/group tennis lessons
· Implement the Situational Training methodology, TNT curriculum and Midtown Cardio Tennis guidelines.
· Promote and assist in the marketing of our adult tennis programs
· Supervise and perform Micro-audits for the tennis professionals who are assigned to teach in the program – insure adherence to curriculum and performance standards
· Attend all coaches' meetings, appropriate membership and supervisory level meetings
· Plan the annual and seasonal class schedule for each segment of the adult tennis program
· Accept and complete other assignments deemed appropriate by the Racquet Sports Manager and/or the General Manager
Core Values
· Win Together
· Glass Half-full
· Passionate about Helping Others
· Better than Yesterday
· Kind
Expected Behaviors
· Charismatic leader
· Detail oriented
· Adaptable
· Bias for action
· Strives for excellence
· Willingness to do what it takes to be successful
This job description is intended to describe the general requirements for the position. It is not a complete statement of duties, responsibilities or requirements. Other duties not listed here may be assigned as necessary to ensure the proper operations of the department.
MIDTOWN is an Equal Opportunity Employer.
Apply Now
Not ready to apply?

Join our Talent Pool
About Us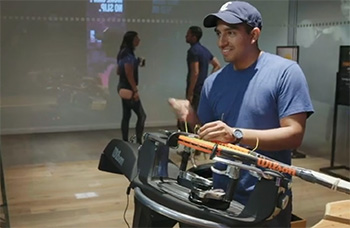 We work at Midtown to inspire people to transform their lives–and we do our job well. Our members stay longer than any other major athletic club chain in North America because we are committed to providing resort-like environments, personal attention, and strong communities at every one of our clubs. We believe all three of those pillars start with attracting and growing rock star talent at every level of our organization.
Who We Want
We're looking for people that share our core values: kind individuals who want to win together, see things as the glass half full, are passionate about helping others, and strive to always be better than yesterday.
Associate Benefits
Members of the Midtown team receive:
Complimentary club membership
Discounts on Midtown products and services
Access to hundreds of free courses for professional development
Health insurance for eligible full-time associates (30+ hours a week)
And more