Requisition ID:
R-1719
Job Category:
Other
Job Type:
Other
Job Location:
2211 Waukegan Road
Bannockburn, IL 60015
Share This Job On:
Apply Now
Assistant General Manager Job in Bannockburn
Midtown is in search of an Assistant General Manager to join our world-class leadership team.
The Position
The Assistant General Manager is a senior leadership role at our club. Planning, leading, and coordinating the core business operations for the food and beverage, spa, retail store sales, housekeeping and Kidtown nursery. This accomplished leader will own the 'hospitality' experience for club members.  
Attention to improve department/club financial results through strategic planning and tactics effectively optimizing and developing personnel resources, managing expenses, increasing revenue, streamlining processes and establishing standards to raise operational excellence and improve member satisfaction are all expected and routine duties. Responsible for the planning and seamless delivery of the member and guest experience across all areas within operation.
Responsibilities
Create, build and develop a culture of hospitality throughout all departments.

Be an inspirational leader and figure head who openly connects with associates, members and fellow leaders.

Ability to set forth and deliver word class standards of quality, operations, and service.

Maintain an awareness of similar Clubs and current trends including unique and dynamic programming for food & beverage, spa, retail, cleanliness and other ancillary activities to both drive revenue and enhance overall member and guest experience.

Build and maintain strong community relationships and promotion of the club brand; utilize social media and communications resources/opportunities to drive forward the business and brand.

Create, implement, and direct Standard Operating Procedures internally or as directed by company to ensure sound financial club improvement and membership enhancements.

Ensure SOP's are built from the ground up to enable sustainable and authentic hospitality and service.

Actively participate and be engaged in frontline work as circumstances dictate, leading by example in setting the bar for all behaviors.

Ensure personnel behavior and department operations align with Midtown core values and objectives. Be an ambassador for the Midtown brand to both members and associates.

Analyze, develop and maintain systems/procedures to improve operating efficiency and service delivery.

Routinely conduct local competitive analysis to identify and leverage resort's advantage in marketplace and optimize brand opportunities.

Manage operating expense by reducing or eliminating altogether poor personnel performance, procedural inefficiencies, and wasteful expenditures.

Establish short term and long-range goals and action plans and effectively execute with managers accountable for positive financial results and continuity of meaningful service.

Prepare quarterly/ annual budgets and regular variance reports.

Actively pursue member/associate input to address concerns and improve quality of service experience. Partner with SLT to determine road map to success.

Resolve personnel issues by fostering open communication and clearly establishing performance expectations for all team leads.

Improve business results through collaborative team building and associate mentoring and development.

Foster education-based associate training and succession programs based around Midtown core values.

Administer associate performance reviews for direct reports and provide meaningful and measurable business goals for each leader.

Participate in annual department budget preparation for Kidtown, Spa, F&B, Retail, & Housekeeping.
Oversee and lead/ support all event-based initiatives for Food & Beverage, Spa, and Retail ensuring compliance with all budgeted targets.
Recruit, hire and train department personnel who epitomize the Midtown core values.
Routinely close/ author Medallia surveys assigned, author We Inspire recognitions, participate in the Manager on Duty schedule, and attend key club events. Develop root-cause analysis focus groups to tackle all member feedback where hospitality and friendliness metrics can be influenced.
Maintain and improve member experience scores (Medallia surveys).
Follow all club/company policies and procedures as outlined in Employee Manual.
Accept and complete any special assignments as deemed appropriate by General Manager.
Job Qualifications
Bachelor's degree preferred.
12 years hospitality related experience and 8 years management experience.
Articulate; excellent communication skills.
Good with numbers; ability to interpret/ understand financial spreadsheets.
Positive "can do" attitude.
Organized and detail oriented.
Customer service orientation and driven to achieve world-class hospitality culture.
Ability to work with others as a team player and adapt leadership style as needed.
In addition, the ideal candidate will possess some or all the following skills/attributes:
Exercise advocate
Competitive
Sales and promotional aptitude
Networker and recruiter
The ideal candidate's characteristics are:
Optimistic, Reliable, Relentless, Curious, Adaptable, Passionate about helping others and Kind
To apply for this role, please send your resume/ CV to talent@midtown.com
This job description is intended to describe the general requirements for the position. It is not a complete statement of duties, responsibilities or requirements. Other duties not listed here may be assigned as necessary to ensure the proper operations of the department.
MIDTOWN is an Equal Opportunity Employer.
Apply Now
Not ready to apply?

Join our Talent Pool
About Us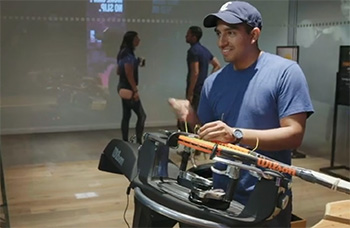 We work at Midtown to inspire people to transform their lives–and we do our job well. Our members stay longer than any other major athletic club chain in North America because we are committed to providing resort-like environments, personal attention, and strong communities at every one of our clubs. We believe all three of those pillars start with attracting and growing rock star talent at every level of our organization.
Who We Want
We're looking for people that share our core values: kind individuals who want to win together, see things as the glass half full, are passionate about helping others, and strive to always be better than yesterday.
Associate Benefits
Members of the Midtown team receive:
Complimentary club membership
Discounts on Midtown products and services
Access to hundreds of free courses for professional development
Health insurance for eligible full-time associates (30+ hours a week)
And more