Requisition ID:
R-2865
Job Category:
Other
Job Type:
Job Location:
6105 Avenue du Boisé
Montreal, QC H3S 2V9
Share This Job On:
Apply Now
Directeur des Installations / Facilities Manager Job in Montreal
Midtown est à la recherche d'un Directeur des Installations à ajouter à notre organisation de classe mondiale.
Midtown s'engage à offrir une hospitalité de classe mondiale à ses membres et nous comprenons l'importance que joue l'équipe des installations pour assurer la qualité de cette expérience. Nous ne considérons pas le département des installations comme un service qui travaille en coulisses. Sans une solide culture de la sécurité, des installations et des équipements qui fonctionnent bien et une concentration constante sur l'entretien et l'entretien de nos espaces, les valeurs de Midtown ne seront pas atteintes.
APERÇU DU DIRECTEUR DES INSTALLATIONS
Le gestionnaire des installations est un leader pratique qui comprend l'importance de créer une culture d'environnements sécuritaires, propres et fonctionnels pour tous les membres, invités et associés. Le directeur des installations gère toutes les opérations d'ingénierie/maintenance, y compris la maintenance des bâtiments, avec une attention particulière à l'efficacité, à la sécurité et à la protection des actifs. Le directeur des installations est également responsable de la gestion du budget, des dépenses en capital, du calendrier d'entretien préventif et de la conservation de l'énergie, ainsi que responsable du maintien des exigences réglementaires et de l'équipe d'intervention d'urgence pour tous les problèmes liés aux installations. Le directeur des installations fait partie de l'équipe de haute direction avec d'autres directeurs de départements.
RESPONSABILITÉS PRINCIPALES :
ENTRETIEN PRÉVENTIF
• Planifier, diriger, gérer et effectuer des inspections de maintenance régulières pour s'assurer que tout l'équipement reçoit une maintenance préventive appropriée selon les calendriers créés et/ou préalablement établis par le club, les meilleures pratiques standard ou les directives des fabricants.
• Optimiser l'utilisation de l'outil de maintenance préventive RPM établi pour tenir compte de tous les ordres de travail et de la planification PM.
• Gérer les installations et le matériel du club, y compris les piscines, les équipements de fitness, la buanderie, la réfrigération, le CVC, la plomberie, le traitement de l'eau, les systèmes électriques et de sécurité des personnes.
GESTION DE LA SÉCURITÉ ET INSTALLATIONS DE FONCTIONNEMENT
• Effectuer des visites quotidiennes et assurer des mesures correctives en temps opportun pour remédier à tous les problèmes et lacunes.
• Fait partie de l'équipe de direction pour coordonner les activités et les programmes du club en toute sécurité.
• Travaille avec le directeur général et le directeur national des installations pour assurer la livraison de toutes les normes de marque de l'installation.
VENDEURS & PROJETS
• Coordonner tous les projets en cours liés aux installations qui se déroulent au club.
• Superviser et participer aux projets d'amélioration des immobilisations au besoin.
• S'assurer que tous les contrats des fournisseurs sont exécutés conformément aux normes du Midtown et conformément aux accords contractuels.
DÉVELOPPEMENT DES TALENTS/LEADERSHIP
• Faire preuve de leadership en illustrant l'excellent service aux membres et en créant une atmosphère d'équipe positive.
• Collaborer avec le directeur national des installations pour recruter et développer la meilleure équipe des installations de l'industrie.
• Évaluer, développer et entretenir l'équipe des installations pour développer ses forces et avoir un impact positif sur le changement.
CONNAISSANCES ET CERTIFICATION
• Formation technique ou expérience équivalente en ingénierie et maintenance requise.
• Capacité démontrée à exploiter des piscines commerciales avec des exigences d'utilisation élevées.
• Licence actuelle d'opérateur de piscine certifié, ou l'équivalent, préférable ; formation avancée un plus.
• Expérience avec l'entretien des terrains de tennis et de l'aménagement paysager préférable.
• Solides connaissances opérationnelles du HVAC, de l'électricité de base, de la plomberie et/ou de la réfrigération, de préférence.
• Certification Facility Manager (CFM, IFMA ou équivalent) préférable.
• Connaissance des équipements de sécurité incendie et de sécurité des personnes et des normes de sécurité au travail.
• Au moins 5 ans d'expérience pratique dans l'entretien des installations.
• Détient au moins 3 ans d'expérience en gestion dans un domaine connexe.
• Connaissances en informatique dans MS Office et les systèmes de maintenance préventive, par ex. FMX et systèmes d'automatisation du bâtiment.
• Diplôme d'une université accréditée préférable.
Pour soumettre votre candidature, veuillez postuler en ligne ou envoyer votre curriculum vitae à talent@midtown.com
----------
Midtown is looking for a Facility Manager to add to our world-class organization.
Midtown is committed to delivering world-class hospitality to members and we understand the importance the facilities team plays in ensuring the quality of that experience. We do not view facilities as a department that works behind the scenes. Without a strong culture of safety, well-functioning facilities and equipment, and a constant focus on maintaining and caring for our spaces, Midtown values will not be achieved.
OVERVIEW OF ROLE
The Facility Manager is a hands-on leader who understands the importance of building a culture of safe, clean and functional environments for all members, guests and associates. The Facility Manager handles all engineering/maintenance operations, including hands on building maintenance with particular attention toward efficiency, security and asset protection. Accountable for managing the budget, capital expenditures, preventative maintenance schedule and energy conservation. Responsible for maintaining regulatory requirements. Leads the emergency response team for all facility issues. The Facility Manager sits on the Senior Leadership Team with other department leads.
CORE RESPONSIBILITIES:
PREVENTATIVE MAINTENANCE
Plan, direct, manage and perform regular maintenance inspections to ensure all equipment receives proper preventative maintenance on schedules created and/or previously established by the club, standard best practices, or manufacturers guidelines.
Optimize the use of the established RPM preventative maintenance tool to account for all PM work orders and scheduling.
Manage the physical plant including pools, fitness equipment, laundry, refrigeration, HVAC, plumbing, water treatment, electrical and life safety systems.
SAFETY MANAGEMENT & FUNCTIONING FACILITIES
Conduct daily walk-throughs and ensure timely corrective action to remedy all issues and deficiencies.
Sit on Senior Leadership Team to coordinate club activities and programs safely.
Work with General Manager and National Facilities Director to ensure delivery of all brand standards of the facility.
VENDORS & PROJECTS
Coordinate all ongoing facilities-related projects taking place at the club.
Oversee and participate in capital improvement projects as needed.
Ensure all vendor contracts are executed to Midtown standards and per contract agreements.
TALENT DEVELOPMENT/LEADERSHIP
Display leadership by exemplifying excellent member service and creating a positive team atmosphere.
Partner with the National Facilities Director to recruit and develop the best facilities team in the industry.
Evaluate, develop and nurture the facilities team to grow strengths and impact positive change.
KNOWLEDGE AND CERTIFICATION
Technical training or equivalent experience in engineering and maintenance required.
Demonstrated ability in operating commercial pools with high usage demands.
Current Certified Pool Operator license, or equivalent, preferable; advanced training a plus.
Experience with tennis court and landscaping maintenance preferable.
Strong operational knowledge of HVAC, basic electrical, plumbing, and/or refrigeration preferable.
Facility Manager certification (CFM, IFMA, or equivalent) preferable.
Knowledge of fire and life safety equipment and workplace safety standards.
At least 5 years of hands-on facility maintenance experience.
Holds a minimum of 3+ years of management experience in related field.
Computer literacy in MS Office and preventative maintenance systems, e.g. FMX and Building Automation Systems.
Degree from an accredited university preferable.
To submit application, please apply online or send resume to  talent@midtown.com
This job description is intended to describe the general requirements for the position. It is not a complete statement of duties, responsibilities or requirements. Other duties not listed here may be assigned as necessary to ensure the proper operations of the department.
MIDTOWN is an Equal Opportunity Employer.
Apply Now
Not ready to apply?

Join our Talent Pool
About Us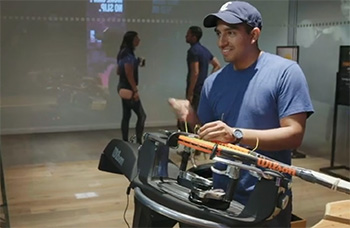 We work at Midtown to inspire people to transform their lives–and we do our job well. Our members stay longer than any other major athletic club chain in North America because we are committed to providing resort-like environments, personal attention, and strong communities at every one of our clubs. We believe all three of those pillars start with attracting and growing rock star talent at every level of our organization.
Who We Want
We're looking for people that share our core values: kind individuals who want to win together, see things as the glass half full, are passionate about helping others, and strive to always be better than yesterday.
Associate Benefits
Members of the Midtown team receive:
Complimentary club membership
Discounts on Midtown products and services
Access to hundreds of free courses for professional development
Health insurance for eligible full-time associates (30+ hours a week)
And more