Requisition ID:
R-2281
Job Category:
Other
Job Type:
Full Time
Job Location:
2300 Royal Palm Boulevar
Weston, FL 33326
Share This Job On:
Apply Now
Facilities Associate/Tennis Lead Job in Weston
Midtown is looking for a Facilities Associate/Tennis Lead to ensure that our outdoor tennis facilities run efficiently.
Midtown is committed to delivering world-class hospitality to members and we understand the importance the Facilities team plays in ensuring the consistency of that experience. We do not view Facilities as a department that works behind the scenes. We recognize that the condition and maintenance of our spaces are incredibly important and establishes the foundation for an incredible member experience. Without a strong culture of safety, a fanatical approach to club cleanliness, functioning facilities and equipment, and a constant focus on maintaining and caring for our buildings, the Midtown values will not be achieved.
OVERVIEW OF ROLE
The Facilities Associate/Tennis Lead is a hands-on leader who understands the importance of championing this message throughout our spaces. Reporting directly to the Facility Manager, this position handles all outdoor tennis court maintenance and repairs, with a consistent emphasis on member experience, safety, security and asset protection. This position is based in Weston, FL but may include tennis court maintenance oversight and training at other Midtown locations throughout North America.
CORE RESPONSIBILITIES:
DAILY MAINTENANCE AND PREVENTATIVE MAINTENANCE
· Plan, direct, manage and perform all maintenance for 25 outdoor tennis courts of varying surfaces: HarTru clay, red clay, and hard courts, plus accessory tennis areas
· Conduct daily inspections to identify and troubleshoot any repair or maintenance needs
· Implement a preventative maintenance schedule for all courts on schedules previously established by the club, standard best practices, and/or manufacturer guidelines
· Complete and respond to all assigned work orders, trouble calls, and emergency facility calls regarding outdoor areas
· Utilize the established FMX maintenance management system to account for all work orders, planned maintenance tasks and scheduling
· Partner with Facilities Manager and Raquet Sports Manager to ensure that the needs of the club and members are consistently met or exceeded
· Lead the tennis maintenance team, including recommending schedules and modifications
· Bonus: Understand irrigation and exterior lighting systems
· Bonus: Assist in managing building systems, including equipment, refrigeration, HVAC, plumbing, water treatment, electrical and life safety systems
SAFETY MANAGEMENT & FUNCTIONING FACILITIES
· Conduct daily walk-throughs and ensure urgent corrective action to remedy any issues and deficiencies
· Partner with all stakeholders - members and staff alike - to create an attractive and safe environment at all times
· Work with General Manager, Facility Manager, Raquet Sports Manager and National Directors to ensure delivery of all brand standards and initiatives for all aspects of the facility
· Decision making and judgment focused on safety, prevention, and high-quality member experiences
TALENT DEVELOPMENT
· Evaluate and develop the Facilities team to grow strengths and impact positive change to the brand
· Provide guidance and recommendations for recruitment and retention of world-class facilities and committed to Gain, Train and Retain
· Potentially provide guidance and training for Facilities teams in other Midtown clubs throughout North America
KNOWLEDGE AND CHARACTERISTICS
· Demonstrated ability in maintaining and operating commercial tennis courts with high usage demands
· Advanced training and/or certification on tennis court maintenance a plus
· At least 5 years of hands-on tennis court maintenance experience
· Perform labor and detail-oriented work outdoors
· Experience with irrigation systems and landscaping maintenance preferable
· Flexibility to complete other tasks, both related to outdoor spaces (pools, terraces, and lounge areas) and indoor spaces, as needed
· Are self-directed requiring little supervision once a task is assigned
· Understand prioritization and a sense of urgency; able to meet deadlines
· Computer literacy in MS Office and facility maintenance management systems
· Bilingual (Spanish/English) an asset.
· Consistently present a pleasant, attentive and courteous attitude toward members, guests and fellow associates
· Take pride in themselves and their work
This job description is intended to describe the general requirements for the position. It is not a complete statement of duties, responsibilities or requirements. Other duties not listed here may be assigned as necessary to ensure the proper operations of the department.
To apply, you may submit your resume/CV to: talent@midtown.com
This job description is intended to describe the general requirements for the position. It is not a complete statement of duties, responsibilities or requirements. Other duties not listed here may be assigned as necessary to ensure the proper operations of the department.
MIDTOWN is an Equal Opportunity Employer.
Apply Now
Not ready to apply?

Join our Talent Pool
About Us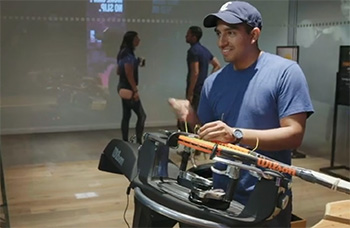 We work at Midtown to inspire people to transform their lives–and we do our job well. Our members stay longer than any other major athletic club chain in North America because we are committed to providing resort-like environments, personal attention, and strong communities at every one of our clubs. We believe all three of those pillars start with attracting and growing rock star talent at every level of our organization.
Who We Want
We're looking for people that share our core values: kind individuals who want to win together, see things as the glass half full, are passionate about helping others, and strive to always be better than yesterday.
Associate Benefits
Members of the Midtown team receive:
Complimentary club membership
Discounts on Midtown products and services
Access to hundreds of free courses for professional development
Health insurance for eligible full-time associates (30+ hours a week)
And more