Requisition ID:
R-3859
Job Category:
Fitness Coach
Job Type:
Job Location:
6105 Avenue du Boisé
Montreal, QC H3S 2V9
Share This Job On:
Apply Now
Fitness Coach Job in Montreal
Midtown est à la recherche d'un entraîneur de conditionnement physique / entraîneur personnel pour travailler en étroite collaboration avec nos membres afin d'atteindre leurs objectifs.
Ce que vous ferez : Inspirer les membres à transformer leur vie par l'éducation et le mouvement
Pour commencer votre carrière en tant que coach chez Midtown, vous pouvez amener vos clients à vivre une expérience de premier ordre. En outre, nous proposons un coaching d'intégration et de développement commercial, qui comprend la participation à notre programme de lancement et le rôle de coach en service ; ceux-ci vous permettent de vous intégrer à la culture de Midtown tout en agissant comme centre d'information et ambassadeur du fitness dans votre club. Ce rôle aide à développer votre clientèle en tant que nouvel entraîneur de Midtown, tout en favorisant une compréhension approfondie de la vie du club et une appréciation globale des besoins individuels des membres, qui font partie intégrante de votre succès en tant qu'entraîneur. Les entraîneurs de conditionnement physique sont récompensés pour leur engagement et leur développement pédagogique.
Responsabilités:
Travailler avec le club pour développer votre clientèle.
Offrir une attention et une expertise personnelles à nos membres grâce à une conception de programme réfléchie.
Maintenir un horaire de travail cohérent et professionnel qui répond aux besoins de vos clients et clients potentiels.
Conditions:
Un amour du coaching et du mouvement.
Posséder nos valeurs fondamentales : gagner ensemble, verre à moitié plein, être passionné par l'aide aux autres, toujours s'efforcer d'être meilleur qu'hier et être gentil.
Participation au parcours de formation exclusif de Midtown, lors de l'embauche.
Avoir au moins une certification de formation en entrainement personnel reconnue à l'échelle nationale
Veuillez soumettre votre curriculum vitae / CV à: talent@midtown.com
Midtown is searching for a Fitness Coach / Personal Trainer to work closely with our members to achieve their goals.

What you'll do: Inspire members to transform their lives through education and movement
To begin your career as a trainer/ coach at Midtown, you may bring your current clients to enjoy a best-in-class experience. Also, we offer onboarding and business development coaching, which includes being a part of our Launch program and acting as a Coach on Duty; these allow you to integrate into the culture of Midtown while acting as the information hub and ambassador of fitness at your club. This role helps build your client base as a new Midtown coach, while fostering an in-depth understanding of club life and an overall appreciation for individual member needs, which are integral to your success as a coach. Fitness coaches are rewarded for engagement and educational development.
Responsibilities:
Work with the club to build your client base.

Offering personal attention and expertise to our members through thoughtful program design.

Maintain a consistent and professional working schedule that meets the needs of your clients and potential clients.
Requirements:
A love of coaching and movement.

Possess our core values: Win Together, Glass Half full Mindset, Be Passionate about helping others, always strive to be better than yesterday and Be Kind.

Participation in Midtown's proprietary education pathway, upon hire.

Maintain at least one nationally recognized Personal Training certification
Please submit your resume/ CV to: talent@midtown.com
This job description is intended to describe the general requirements for the position. It is not a complete statement of duties, responsibilities or requirements. Other duties not listed here may be assigned as necessary to ensure the proper operations of the department.
MIDTOWN is an Equal Opportunity Employer.
Apply Now
Not ready to apply?

Join our Talent Pool
About Us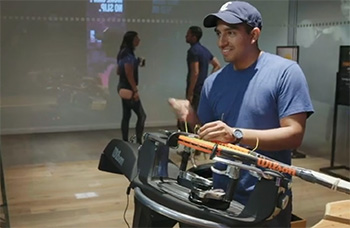 We work at Midtown to inspire people to transform their lives–and we do our job well. Our members stay longer than any other major athletic club chain in North America because we are committed to providing resort-like environments, personal attention, and strong communities at every one of our clubs. We believe all three of those pillars start with attracting and growing rock star talent at every level of our organization.
Who We Want
We're looking for people that share our core values: kind individuals who want to win together, see things as the glass half full, are passionate about helping others, and strive to always be better than yesterday.
Associate Benefits
Members of the Midtown team receive:
Complimentary club membership
Discounts on Midtown products and services
Access to hundreds of free courses for professional development
Health insurance for eligible full-time associates (30+ hours a week)
And more