Requisition ID:
R-2416
Job Category:
Fitness Coach
Job Type:
Full Time
Job Location:
Montreal, QC
Share This Job On:
Apply Now
Head Coach Job in Montreal
Midtown est à la recherche d'un entraîneur-chef/responsable de l'entraînement privé pour se joindre à notre équipe de classe mondiale.
Le poste
L'entraîneur-chef est responsable de la supervision des entraîneurs privé de l'entraîneur en service, de l'entraînement rémunéré en petit groupe et de tous les aspects de l'expérience de la salle de fitness au sein du club. Un élément clé de ce rôle consiste à assurer le recrutement et l'intégration des entraîneurs.
Responsabilités:
Directement responsable de la performance financière de l'entraînement privé et de l'entraînement t en petit groupe, en veillant à ce que les revenus du département dépassent le budget
Superviser le poste d'entraîneur en service au sein du club
Intégration de nouveaux membres dans la programmation de remise en forme
Recruter et intégrer des coachs de fitness
Évaluer régulièrement la performance des entraîneurs. Offrir un soutien, des commentaires et une formation continue.
Superviser l'évaluation semestrielle des entraîneurs conformément aux critères d'entraînement
Soutenir le gestionnaire de programme dans la préparation du budget annuel du département
Créer des rapports mensuels sur les écarts financiers pour votre gestionnaire de programme
Assurez-vous que l'environnement du département du fitness est toujours organisé, sécuritaire et propre
Collaborer avec le service des installations pour établir et gérer le programme d'entretien préventif de l'équipement de conditionnement physique. S'assurer que tous les équipements de fitness sont en bon état de fonctionnement.
Assister aux réunions requises
Suivre toutes les politiques et procédures de l'entreprise telles que décrites dans le manuel de l'employé
Accepter et terminer toutes les missions spéciales jugées appropriées par le gestionnaire de programme
L'entraîneur-chef possèdent :
4 ans d'expérience dans l'industrie
2 ans d'expérience en gestion
Certification de formation personnelle reconnue à l'échelle nationale
Excellentes aptitudes de communication
Aptitude mathématique de base
Expérience d'entraînement en performance et en force
Certification RCR actuelle
Une attitude positive
Compétence organisationnelle
-
Midtown is looking for a Head Coach/Personal Training Manager to join our world-class team.
The Position
Head Coach is responsible for overseeing the Personal Trainers, Coach on Duty, paid Small Group Training, and all aspects of the Fitness floor experience within the club. A key component of this role is ensuring the recruitment and onboarding of Coaches. 
Responsibilities:
Directly responsible for the financial performance of Personal Training, Small Group Training, ensuring department revenue exceeds budget
Oversee the Coach on Duty position within the Club
Onboarding new members into fitness programming
Recruit and onboard Fitness Coaches
Routinely evaluate the performance of the Coaches. Offer ongoing support, feedback and training.
Oversee the biannual evaluation of the coaches in alignment with the Coaching Criteria
Supporting the Program Manager in annual department budget preparation
Author financial variance reports monthly for your Program Manager
Ensure fitness floor is always organized, safe and clean
Collaborate with facility department to establish & manage the fitness equipment preventative maintenance program. Ensuring all fitness equipment is in good working order. 
Attend required meetings
Follow all company policies and procedures as outlined in 

Employee Handbook

Accept and complete any special assignments as deemed appropriate by the Program Manager
Our Head Coaches Possess:
4 years industry experience
2 years management experience
Nationally recognized personal training certification
Excellent communication skills
Basic mathematical aptitude
Performance and strength training experience
Current CPR certification
A positive attitude
Organizational skill
This job description is intended to describe the general requirements for the position. It is not a complete statement of duties, responsibilities or requirements. Other duties not listed here may be assigned as necessary to ensure the proper operations of the department.
MIDTOWN is an Equal Opportunity Employer.
Apply Now
Not ready to apply?

Join our Talent Pool
About Us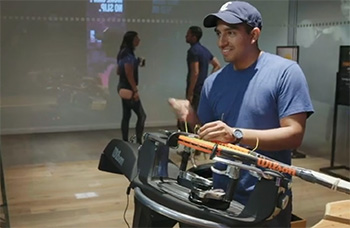 We work at Midtown to inspire people to transform their lives–and we do our job well. Our members stay longer than any other major athletic club chain in North America because we are committed to providing resort-like environments, personal attention, and strong communities at every one of our clubs. We believe all three of those pillars start with attracting and growing rock star talent at every level of our organization.
Who We Want
We're looking for people that share our core values: kind individuals who want to win together, see things as the glass half full, are passionate about helping others, and strive to always be better than yesterday.
Associate Benefits
Members of the Midtown team receive:
Complimentary club membership
Discounts on Midtown products and services
Access to hundreds of free courses for professional development
Health insurance for eligible full-time associates (30+ hours a week)
And more