Requisition ID:
R-3139
Job Category:
Racquet Sports
Job Type:
Job Location:
135 Interstate North Parkway
Atlanta, GA 30339
Share This Job On:
Apply Now
High Performance Tennis Coach Job in Atlanta
Midtown is looking for a High Performance Tennis Coach to engage members and foster their love of tennis.
The High Performance Tennis Coach is responsible to deliver high quality tennis training for competitive junior players. This individual will be an ambassador for Junior competitive tennis within the club and externally as we strive to be the industry gold standard for Junior High Performance programming. This coach will be nimble and adaptable to the changing landscape of the industry and will thrive in a people environment, bringing an energetic and inspiring contribution to the High Performance program.
The specific responsibilities of the HP coach will include but not be limited to:
Assist the HP Manager in the planning, organizing and delivery of all High Performance related programs including sessional programs, holiday and summer camps, tournaments and special events.

Be passionate about the growth and development of the program by bringing positive energy, encouragement, enthusiasm and engagement to every practice or lesson.

Ensure that the HP program is delivered in a manner consistent with Midtown brand standards and methodologies.

Work with the HP Manager and the Racquet Sports Manager on all matters relating to programs, coach development and methodologies.

Maintain a clean and well-organized tennis court environment including ball carts, balls and teaching aids.

Maintain a member focus – be present and accessible to the players and their parents.

Coach groups in the HP program and pathway, self-generate private and semi-private lessons and be available to teach adult programs.

Coach at times that respond to the needs of the program including weekends.

Participate in scheduled meetings with the HP Manager and the team of coaches.

Promote the High Performance program locally, regionally and nationally.

Be available to travel to domestic tournaments.

Accept and complete other assignments deemed appropriate by the HP Manager.
The requirements of the position are:
3 years minimum experience working with High Performance players.

Compete and hit with UTR 10+ players.

Demonstrate effective communication skills.

Demonstrate a passion for the game.

Demonstrate a passion for learning

Maintain current certification with either the PTR or the USPTA.
Core Values
Win Together

Glass Half-full

Passionate about Helping Others

Better than Yesterday

Kind
Expected Behaviors
Charismatic

Detail oriented

Adaptable

Bias for action

Strives for excellence

Willing to do what it takes to be successful
This job description is intended to describe the general requirements for the position. It is not a complete statement of duties, responsibilities or requirements. Other duties not listed here may be assigned as necessary to ensure the proper operations of the department.
MIDTOWN is an Equal Opportunity Employer.
Apply Now
Not ready to apply?

Join our Talent Pool
About Us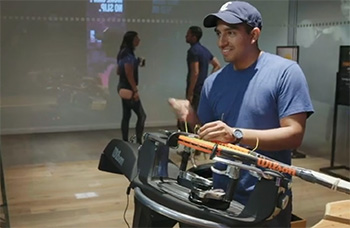 We work at Midtown to inspire people to transform their lives–and we do our job well. Our members stay longer than any other major athletic club chain in North America because we are committed to providing resort-like environments, personal attention, and strong communities at every one of our clubs. We believe all three of those pillars start with attracting and growing rock star talent at every level of our organization.
Who We Want
We're looking for people that share our core values: kind individuals who want to win together, see things as the glass half full, are passionate about helping others, and strive to always be better than yesterday.
Associate Benefits
Members of the Midtown team receive:
Complimentary club membership
Discounts on Midtown products and services
Access to hundreds of free courses for professional development
Health insurance for eligible full-time associates (30+ hours a week)
And more