Requisition ID:
R-3003
Job Category:
Other
Job Type:
Full Time
Job Location:
2444 N Elston Avenue
Chicago, IL 60647
Share This Job On:
Apply Now
Hotel Front desk Agent Job in Chicago
The Hotel at Midtown is looking for a Front Desk Associate to assist our members and keep our front desk running smoothly.
RESPONSIBILITIES:
Know your work schedule and follow it with a high degree of reliability.
Interact with members, hotel guests, vendors, and co-workers in a professional and customer service manner.
Maintain high standards of personal appearance and grooming.
. Perform your job according to standard operating procedures.
Read, understand and follow all policies, procedures and practices as stated in the Employee Handbook.
Implement hotel& club  safety and emergency policies and procedures (i.e. evacuation, first aid, etc.) to include removing all safety hazards.
Promptly report accidents, injuries, property damage or loss to supervisor.
Promptly report substandard (unsafe) conditions to supervisor.
Keep accurate communication flowing freely among all hotel departments.
Inform management promptly of any work-related problems or guest/member complaints.
Maintain professional, amicable relationships with all hotel & club departments, managers, staff, vendors, and community and professional contacts.
Must be willing to get trained and use working platforms such as CSI, Maestro, Salto
Promote excellent guest service throughout the resort by demonstrating friendly, courteous and helpful attitudes toward all guests.
Stand, sit, or walk for an extended period of time. Move, lift, carry, push, pull, and place objects weighing less than or equal to 10 pounds without assistance.
Attend all scheduled training classes and meetings.
Train and supervise other employees as directed by management.
Continue to learn and grow in your position.
Perform any reasonable request as assigned or directed by management.
Provide for a safe work environment by following all safety and security procedures and rules.
Comply with all applicable federal, state and local laws and ordinances as they apply to the hotel,club, guests, members and employees
This job description is intended to describe the general requirements for the position. It is not a complete statement of duties, responsibilities or requirements. Other duties not listed here may be assigned as necessary to ensure the proper operations of the department.
MIDTOWN is an Equal Opportunity Employer.
Apply Now
Not ready to apply?

Join our Talent Pool
About Us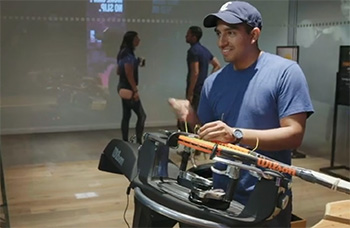 We work at Midtown to inspire people to transform their lives–and we do our job well. Our members stay longer than any other major athletic club chain in North America because we are committed to providing resort-like environments, personal attention, and strong communities at every one of our clubs. We believe all three of those pillars start with attracting and growing rock star talent at every level of our organization.
Who We Want
We're looking for people that share our core values: kind individuals who want to win together, see things as the glass half full, are passionate about helping others, and strive to always be better than yesterday.
Associate Benefits
Members of the Midtown team receive:
Complimentary club membership
Discounts on Midtown products and services
Access to hundreds of free courses for professional development
Health insurance for eligible full-time associates (30+ hours a week)
And more