Requisition ID:
R-1726
Job Category:
Other
Job Type:
Full Time
Job Location:
2444 N Elston Avenue
Chicago, IL 60647
Share This Job On:
Apply Now
Hotel Manager Job in Chicago
Midtown is searching for Hotel Manager to join our world-class team. 
The Salary Range for this position is $75,000-$80,000/ annually.
Midtown Athletic Club and Hotel - Chicago is the largest premium athletic club in the world.  Showcasing everything in one location, the new 575,000 square foot sports resort includes a 55-room hotel, full-service restaurant, indoor and outdoor pools, golf simulators, basketball court, state-of-the-art fitness and the best racquet sports programs in North America. 
We built the Hotel at Midtown for active travelers who desire a luxurious, beautiful atmosphere. The hotel is modern and refined in design. During their stay, they can experience every one of our fitness and wellness offerings, including two pools, a mind-body studio, a boxing gym, cycle studio, Les Mills group classes, 40 yards of indoor turf, golf simulators, and so much more.  All that, plus everything you'd expect from a resort, like our rooftop bar, restaurant, and full spa. 
The Hotel Manager is primarily responsible for auditing daily revenues for accuracy. S/he is responsible for maintaining an efficient and effective flow of information with guests, Team Members, managers, housekeeping, and other departments within the hotel. 
The Hotel Manager shall strive to provide exceptional service to both internal and external guests at all times. S/he will be responsible for exemplifying the Hotel's Culture and Midtown Athletic Club's Spirit 
Supervise the functioning of all product areas of the location (Front of the House, Back of the House, F&B, Guest Experience) optimizing all opportunities 

Manage the hotel P&L and reporting ensuring that all revenue, costs and data is consistent across all channels 

Oversee the day-to-day operations and assignments of the hotel staff; assist the Assistant General Manager in the development and communication of departmental strategies and goals. Communicate and enforce policies and procedures. 

Recommend and/or initiate salary, disciplinary, or other staffing/human resources-related actions in accordance with Company rules and policies.  
Collaborate with General Manager/Assistant General Manager in the development, implementation and monitoring of financial and operational plans for the hotel which support the overall objectives of the company. Provide regular direction and oversee hotel operations as follows: 
Front office, revenue, and reservation functions to ensure the delivery of superior guest services, the security of monies, credit card transactions and guest information, and that established goals are achieved. 

Housekeeping functions to ensure compliance with quality and brand standards in all areas of the hotel as it relates to appearance, cleanliness, and levels of maintenance and repair; ensure preventative maintenance programs are in place to protect the physical assets of the hotel. 

Sales functions to ensure that goals are established and achieved to meet the hotel's overall financial objectives through room rate controls and analyzing booking trends. 
Create and manage special event room blocks, pricing and release of rooms. 
Maintain complete knowledge of correct maintenance and use of equipment. Use equipment only as intended. 

Maintain positive guest relations at all times. 

Resolve guest complaints to ensure satisfaction. 

Complete and transmit daily management and accounting reports and supporting documents. 
Prepare customer tracking reports, market segmentation reports, and other auditing reports necessary to ensure the accurate accounting of hotel revenues and expenses. 
Perform guest service functions as required; may assist in booking room reservations, answering hotel phone calls, and notifying guests of message. 

Act as Manager on Duty. 

Bring passion and delight to your guests and peers. 

Assist guests with reports of lost/stolen articles, following hotel policy. 

Adhere to hotel requirements for guest/employee accidents or injuries and in emergency situations. 
Ten years customer service experience 

Five years management experience 

High school diploma or equivalent; college preferred 

Previous front office experience 

F&B Background a plus 

Maestro/Silverware software experience a plus 

Must have a comprehensive knowledge of service standards, guest relations, and etiquette. 

Basic computer, telephone, and math skills 

Strong command of English; Other languages helpful 

Must have excellent phone etiquette 

Must be highly detailed orientated 

Must be able to work in a fast-paced environment 

Must be professional in appearance and demeanor 

Ability to work a flexible schedule that may include evenings, weekends and holidays 

Must have the ability to deal effectively and interact well with the guests and associates 

Must have the ability to resolve problems/conflicts in a diplomatic and tactful manner 

Ability to assist with the design and preparation of statistical reports and presentations 

Possess strong leadership, motivational, organizational and verbal communication skills 
To apply, please submit your resume/ CV to talent@midtown.com
This job description is intended to describe the general requirements for the position. It is not a complete statement of duties, responsibilities or requirements. Other duties not listed here may be assigned as necessary to ensure the proper operations of the department.
MIDTOWN is an Equal Opportunity Employer.
Apply Now
Not ready to apply?

Join our Talent Pool
About Us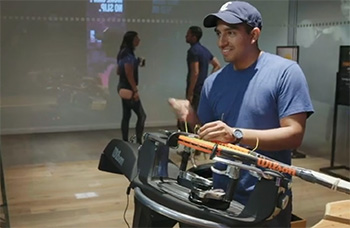 We work at Midtown to inspire people to transform their lives–and we do our job well. Our members stay longer than any other major athletic club chain in North America because we are committed to providing resort-like environments, personal attention, and strong communities at every one of our clubs. We believe all three of those pillars start with attracting and growing rock star talent at every level of our organization.
Who We Want
We're looking for people that share our core values: kind individuals who want to win together, see things as the glass half full, are passionate about helping others, and strive to always be better than yesterday.
Associate Benefits
Members of the Midtown team receive:
Complimentary club membership
Discounts on Midtown products and services
Access to hundreds of free courses for professional development
Health insurance for eligible full-time associates (30+ hours a week)
And more