Requisition ID:
R-3260
Job Category:
Other
Job Type:
Full Time
Job Location:
2444 N Elston Avenue
Chicago, IL 60647
Share This Job On:
Apply Now
HubSpot Junior Administrator Job in Chicago
This role is hybrid, with at least 2 days per week onsite.
The Position
We work at Midtown to inspire people to transform their lives. Our HubSpot J.A. does so by supporting the operations, evolution, design, and support of our CRM system.
Midtown has implemented HubSpot CRM across our entire organization, with CMS Hub, Marketing Hub, Sales Hub, Service Hub, and Operations Hub. The system will power our member service and communications, social media channels, and marketing and sales prospect funnel. You will partner with our Sales Operations Manager in setting up and evolving the system for success, working collaboratively with leaders in marketing, sales, and operations to execute strategy and implement updates within the CRM.
Overall Function
You will be responsible for the support and administration of HubSpot specifically, in a supportive role to the Sales, Marketing and Operations initiatives, while assisting the field team on a day-to-day basis within HubSpot and other internal technology systems. Activities can include user management, profiles, permission sets, licenses, and ongoing data maintenance, deduplication and troubleshooting.
To be successful in this role, you need the ability to think systematically across multiple business processes, understand both the big picture and small details of a CRM system, work collaboratively to define business objectives and strategy—then translate on that strategy to CRM best practices. You will report directly to the Sales Operations Manager. The team is based in our HQ office in Chicago, though the role can be hybrid, and works across club locations.
You'll Love this Job if:
You thrive when we win together.  You enjoy completing the vital, urgent "little things" that mean the most to our field team members, guiding through workflows, and supporting with Kindness.

You love partnership and collaboration: You will assist IT and Sales Operations Manager to integrate other platforms and apps with HubSpot.

You get how much information can help people: you will work with our Sales Operations Manager to make other people's jobs better through creating efficiencies and working towards solutions.
Full Job Description
Handle basic administrative functions including user account management, profiles, roles, permission sets, license types and field security.

Troubleshoot issues within HubSpot and escalate as needed.

Manage ongoing data integrity and data hygiene tasks. Manage deduplication process.

Keep abreast of new HubSpot features and functionality.

Help create, manage, and schedule HubSpot training opportunities for club teams.

Conduct "office hours" and ad hoc training events to provide HubSpot technical support as needed.

Assist in the management of custom fields, objects, workflow rules, record types, page layouts, and third-party products.

Work with the Sales Operations Manager to build HubSpot reports to measure various sales, marketing, and service efforts.

Partner with Sales Operations Manager to build and implement road maps for processes and projects as the use of HubSpot evolves as business needs change.

Interface with teams across the business including Sales, Marketing, Operations, IT and Users to facilitate business requirements and related duties.

Work with management to identify new and creative opportunities to leverage the database to support additional business processes or functions.

Work with Marketing Technology Manager to analyze website/email behaviors and searched/downloaded content to identify and improve most effective targeted campaigns and to segment lists accordingly.

Work with Marketing Team to measure results and optimize the nurture tracks and marketing automation for these segments to convert leads to customers.

Account for lead generation process results from emails and inbound efforts

Assist the Marketing Lifecycle Manager to execute company emails and landing pages, nurture campaigns, as well as create workflows and smart content.

Participate in system implementation projects including but not limited to: requirements, documentation, systems configuration, test documentation/execution, issue identification and resolution

Maintain updated system documentation and HubSpot policies/procedures.

Maintain a high-level familiarity with related systems capabilities and scope definition to make recommendations about potential upstream/downstream.

Support the day-to-day running of the business within HubSpot, which includes interacting with business users and technology partners, in support of HubSpot CRM environment.
Qualifications Required:
Minimum of 2 years' experience in a customer-centric business environment with administrative responsibilities.

Minimum of 1 year experience as HubSpot Administrator in a sales or sales support capacity (understanding HubSpot Marketing workflows, sequences, and playbooks a BIG PLUS).

HubSpot Sales Software Certification Required.

Strong understanding of the HubSpot platform, with the ability to build custom objects, formula fields, workflows, custom views, and other content of intermediate complexity.

A demonstrated ability to understand and articulate complex requirements.

Ability to provide best practices and coaching on the use of CRM applications to end users.

Proficient in using HubSpot smart lists, and marketing automation technology.

Experience working with outside systems (e.g., other CRM systems, phone systems, databases, etc.).

Excellent organizational and time management skills.

Self-motivating, able to assume responsibility and work autonomously in a professional manner.

Excellent written and verbal communication skills.

Strong teamwork and collaboration skills.
Core Competencies:
Initiative and Creativity

Creative problem solving

Enjoy a fast-paced environment.

Cooperation / Teamwork

Quality of Work

Reliability

Strong organizational skills and ability to prioritize.
This job description is intended to describe the general requirements for the position. It is not a complete statement of duties, responsibilities or requirements. Other duties not listed here may be assigned as necessary to ensure the proper operations of the department.
MIDTOWN is an Equal Opportunity Employer.
Apply Now
Not ready to apply?

Join our Talent Pool
About Us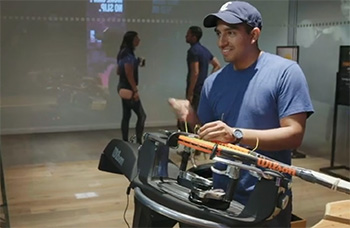 We work at Midtown to inspire people to transform their lives–and we do our job well. Our members stay longer than any other major athletic club chain in North America because we are committed to providing resort-like environments, personal attention, and strong communities at every one of our clubs. We believe all three of those pillars start with attracting and growing rock star talent at every level of our organization.
Who We Want
We're looking for people that share our core values: kind individuals who want to win together, see things as the glass half full, are passionate about helping others, and strive to always be better than yesterday.
Associate Benefits
Members of the Midtown team receive:
Complimentary club membership
Discounts on Midtown products and services
Access to hundreds of free courses for professional development
Health insurance for eligible full-time associates (30+ hours a week)
And more