Requisition ID:
R-2255
Job Category:
Other
Job Type:
Job Location:
Montreal, QC
Share This Job On:
Apply Now
KidTown Associate Job in Montreal
Midtown est à la recherche d'un KidTown Associate pour rejoindre notre équipe de classe mondiale.
En tant que partie intégrante de l'équipe de garde d'enfants, nos KidTown Associates inspirent même nos plus jeunes membres par le mouvement, la communauté et l'attention personnelle. Ils encouragent une vie active, sociale et plus saine en :
Favoriser un environnement de plaisir basé sur le mouvement dans un cadre sûr et confortable
Diriger des activités telles que les arts et l'artisanat, l'heure du cercle, l'heure du conte et les jeux sur le terrain
Communiquer les comportements positifs et négatifs aux parents lors de la prise en charge
Créer des liens avec nos familles
Garder l'espace propre, exempt de germes et de dégâts pour assurer le bien-être du personnel et des enfants
Élaborer des stratégies avec leadership pour améliorer constamment KidTown et Varsity Club
Nos associés KidTown :
Avoir au moins 2 ans d'expérience de travail avec des enfants dans un environnement éducatif favorable
Sont à l'aise avec les enfants âgés de 8 semaines à 15 ans
Prendre l'initiative et s'approprier un poste et diriger les jeunes membres avec confiance et attention
Posséder des compétences exceptionnelles en communication verbale avec les enfants et les adultes
Avoir de la patience et être extraverti et amical
Avoir des niveaux d'énergie élevés et peut faire bouger les enfants dans une variété d'activités
Afficher une volonté de grandir avec les besoins changeants des membres et de notre espace
Midtown is searching for a KidTown Associate to join our world-class team.
As an integral part of the childcare team, our KidTown Associates inspire even our youngest members through movement, community, and personal attention. They encourage active, social, and healthier lives by:
Fostering an environment of movement based fun in a safe and comfortable setting
Leading activities such as arts and crafts, circle time, story time, and games on the turf
Communicating both positive and negative behaviors to parents at pick-up
Creating relationships with our families
Keeping the space clean, free of germs and messes to ensure the well-being of staff and children
Strategizing with leadership to constantly better KidTown and Varsity Club
Our KidTown Associates:
Have at least 2 years of experience working with children in an educationally supportive environment
Are comfortable with children ages 8 weeks up to 15 years old
Take initiative and ownership to a position and lead youth members with confidence and care
Possess outstanding verbal communication skills with children and adults
Have patience and are outgoing and friendly
Have high energy levels and can keep children moving in a variety of activities
Display a willingness to grow with the changing needs of members and our space
This job description is intended to describe the general requirements for the position. It is not a complete statement of duties, responsibilities or requirements. Other duties not listed here may be assigned as necessary to ensure the proper operations of the department.
MIDTOWN is an Equal Opportunity Employer.
Apply Now
Not ready to apply?

Join our Talent Pool
About Us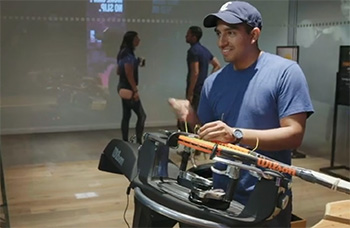 We work at Midtown to inspire people to transform their lives–and we do our job well. Our members stay longer than any other major athletic club chain in North America because we are committed to providing resort-like environments, personal attention, and strong communities at every one of our clubs. We believe all three of those pillars start with attracting and growing rock star talent at every level of our organization.
Who We Want
We're looking for people that share our core values: kind individuals who want to win together, see things as the glass half full, are passionate about helping others, and strive to always be better than yesterday.
Associate Benefits
Members of the Midtown team receive:
Complimentary club membership
Discounts on Midtown products and services
Access to hundreds of free courses for professional development
Health insurance for eligible full-time associates (30+ hours a week)
And more