Requisition ID:
R-1054
Job Category:
Other
Job Type:
Other
Job Location:
6105 Avenue du Boisé
Montréal, QC H3S 2V9
Share This Job On:
Apply Now
Member Sales Advisor / conseillers aux ventes Job in Montréal
Midtown est à la recherche d'un conseiller aux ventes pour attirer les membres dans nos clubs de fitness haut de gamme.
Poste
Nos conseillers aux ventes ont un esprit professionnel, sont très motivés et intéressés à promouvoir des modes de vie sains. En tant que partie intégrante de notre équipe de vente, ils ont un impact positif sur le succès de notre club et sur la vie des autres.
Les principales responsabilités sont:
Initier et vendre des adhésions de manière consultative

Atteindre les objectifs de vente et générer des prospects par le biais de prospects, de réseautage et de références de membres

Promouvoir et assister aux événements sociaux du club

Servir d'ambassadeur du club auprès des entreprises locales et des membres de la communauté

Construire des relations durables avec les membres potentiels et actuels
Exigences relatives aux représentants des ventes:
• Expérience de vente antérieure avec une expérience éprouvée de succès
• Compétences interpersonnelles exceptionnelles
• Très motivé et communique efficacement
• Passionné d'aider les autres à améliorer la qualité de leur vie
• Capable et disposé à écouter les commentaires et à les appliquer à l'avenir
• Notre équipe de vente est rémunérée sur la base d'une structure de commissions et de bonus.
Midtown is searching for a Membership Sales Advisor to attract members to our premium fitness clubs.
The Position
Our Member Sales Advisors are professionally-minded, highly motivated and interested in promoting the healthy lifestyles. As an integral part of our sales team they have a positive impact on the success of our club and the lives of others.
The primary responsibilities are:
Initiating and selling memberships in a consultative manner

Meeting sales goals and generating leads through prospect, networking, and member referrals

Promoting and attending club social events

Serving as club ambassador to local businesses, corporations and community members

Building lasting relationships with prospective and current members
Sales Representatives requirements:
Previous sales experience with a proven track record of success

Exceptional interpersonal skills

Highly motivated and communicate effectively

Passionate about helping others improve the quality of their lives

Able and willing to listen to feedback and apply it moving forward

Our membership sales team is compensated based on a commission and bonus structure.
*To submit application, please apply online or send resume to nicole.masri@midtown.com 
This job description is intended to describe the general requirements for the position. It is not a complete statement of duties, responsibilities or requirements. Other duties not listed here may be assigned as necessary to ensure the proper operations of the department.
MIDTOWN is an Equal Opportunity Employer.
Apply Now
Not ready to apply?

Join our Talent Pool
About Us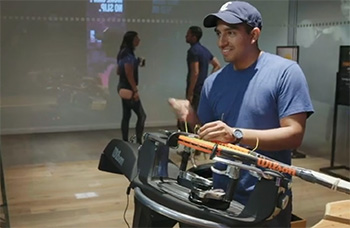 We work at Midtown to inspire people to transform their lives–and we do our job well. Our members stay longer than any other major athletic club chain in North America because we are committed to providing resort-like environments, personal attention, and strong communities at every one of our clubs. We believe all three of those pillars start with attracting and growing rock star talent at every level of our organization.
Who We Want
We're looking for people that share our core values: kind individuals who want to win together, see things as the glass half full, are passionate about helping others, and strive to always be better than yesterday.
Associate Benefits
Members of the Midtown team receive:
Complimentary club membership
Discounts on Midtown products and services
Access to hundreds of free courses for professional development
Health insurance for eligible full-time associates (30+ hours a week)
And more