Requisition ID:
R-3479
Job Category:
Other
Job Type:
Full Time
Job Location:
2444 N Elston Avenue
Chicago, IL 60647
Share This Job On:
Apply Now
National Food & Beverage Director Job in Chicago
Midtown is looking for a National Food & Beverage Director to lead our F&B Department and ensure our standards are upheld. This position will require 25% travel to our non-Chicagoland clubs (Weston, FL, Rochester, NY, Atlanta, GA, & Montreal, Canada). 75% of time will be spent in our Chicagoland clubs and Corporate office (Chicago, Willowbrook, Palatine & Bannockburn).
The Position
The National Food & Beverage Director is the owner of all Food & Beverage operations at our premier athletic clubs. Driving cutting edge Food & Beverage experiences, the goal of the Food & Beverage Director is to ensure all members and guests are provided with inviting and hospitable service throughout all F&B venues including events and seasonal offerings. Maintaining a strong focus on cost, the Food & Beverage Director will ensure a fundamental approach to ensuring continuous growth and development of the Food & Beverage team while continuously striving to evolve the business and overall member experience.
Primary responsibilities:
Lead and manage all aspects of the Food & Beverage operations.

Develop and manage all ongoing training to ensure seamless, upscale, casual service in all outlets including special events and all seasonal offerings.

Partner with General Managers and Assistant General Managers to develop, implement and sustain Food and Beverage standards in line with the brand positioning of Midtown Athletic Clubs.

Develop a culture for training and re-invention to ensure service standards and SOPs consistently remain at the forefront of all service delivery at this new club.

Ensure all financial obligations are being met and ensure all food and beverage associates are aware of and driving financial goals for the club in all areas of food and beverage.

Understands the member and guest expectations and creates and nurtures an approach throughout the team to ensure a strong and consistent hospitality experience is provided throughout all aspects of Food & Beverage. Drives the importance of associates putting themselves in the member's shoes when delivering an experience.

Owner of Brand Standards for all aspects of Food & Beverage at Midtown and maintains a strong culture of cleanliness throughout all areas of responsibility.

Drive innovative promotions, menus and concepts, creating a destination of choice for Midtown members and as the space for local events. Partners with colleagues within the club to leverage opportunities to drive food and beverage sales for Events, Tennis, Fitness, Retail and Spa.

Lead and supports all Food & Beverage departments on the achievement of their financial and operational targets.

Prepare annual budgets and administers in a fiscally responsible manner.

Implement effective control of food, beverage, labor and operating expenses throughout the F&B division.

Ensure the implementation of standards in guest service and hospitality and constantly seeks out ways to improve product and service as well as increase volumes and profits.

Manage selection, training and development of all reports to ensure timely recruitment and career growth in Food & Beverage.

Partners with Club Events Director to drive in club and hotel related events, ensuring all F & B Sales and Services are executed on brand.

Follow department policies, procedures and service standards.

Follow all safety policies and driver of all Food Safety and HAZMAT Certification requirements.

Holds Food & Beverage team members accountable for the timely completion and accurate communication of brand standards, fostering a culture of accountability.
Food & Beverage Director requirements:
A minimum of five years Food & Beverage Managerial experience in a senior leadership role required. Previous Hotel and Catering Events experience preferable.

Strong interpersonal and problem-solving abilities and a relentless approach to achieving brand and company goals.

Understands the importance of attention to detail and finesse when delivered through service and hospitality experiences.

Ability to work well under pressure in a fast-paced environment and ensures reliable consistent results.

Ability to work cohesively as part of a team and create an optimistic culture amongst the team while promoting a sense of curiosity to learn and grow.

Ability to focus attention on member needs, remaining calm and courteous at all times.

Always putting the member and guest first while being adaptable to changing priorities.

Experience in working with Silverware and Maestro Hotel Management Systems preferred.
This job description is intended to describe the general requirements for the position. It is not a complete statement of duties, responsibilities or requirements. Other duties not listed here may be assigned as necessary to ensure the proper operations of the department.
MIDTOWN is an Equal Opportunity Employer.
Apply Now
Not ready to apply?

Join our Talent Pool
About Us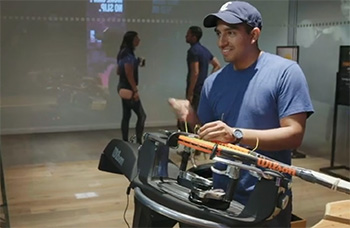 We work at Midtown to inspire people to transform their lives–and we do our job well. Our members stay longer than any other major athletic club chain in North America because we are committed to providing resort-like environments, personal attention, and strong communities at every one of our clubs. We believe all three of those pillars start with attracting and growing rock star talent at every level of our organization.
Who We Want
We're looking for people that share our core values: kind individuals who want to win together, see things as the glass half full, are passionate about helping others, and strive to always be better than yesterday.
Associate Benefits
Members of the Midtown team receive:
Complimentary club membership
Discounts on Midtown products and services
Access to hundreds of free courses for professional development
Health insurance for eligible full-time associates (30+ hours a week)
And more