Requisition ID:
R-2299
Job Category:
Other
Job Type:
Job Location:
2444 N Elston Avenue
Chicago, IL 60647
Share This Job On:
Apply Now
Operations Administrator Job in Chicago
Midtown is looking for an Operations Administrator to add to our world-class team.
The Position
The duties of the Operations Administrator will be varied each day. Reporting to the VP, Operations (VPO), this individual will also support the Head of Product, National Directors and General Managers. Duties will include serving as the VPO's right hand, also as a hub of communication for the team, coordinating many different types of meetings, tracking and monitoring initiatives, managing budgets and expenses, event planning, participating in meetings and collecting actionable items, and performing document management. The ideal candidate will be a multi-tasker with excellent time management and communication skills. This highly visible role includes collaboration and communication with internal teams, members of our clubs, and third-party consultants to alleviate the administrative burden of the operations leadership team. The Operations Administrator is vital in ensuring that initiatives and projects are completed on time, within budget and to our high-quality standards. This position will be a hybrid role (partial remote and partially in office).
They will promote a positive corporate image and contribute to the organization's success by:
Acting as the first point of contact for the Operations Team including the VPO, Head of Product, National Directors and club General Managers while prioritizing inquiries, meetings, and requests to ensure all teams have unparalleled support to perform their objectives

Daily check-ins and support for the VP of Operations, lock-step on all initiatives and delegate for any designated tasks or projects

Support for the Executive team as needed: President; VP Membership Sales; VP Marketing; National Director PX; VP Construction & Development; CFO; CIO

Managing the calendar, coordinating events, scheduling meetings, securing attendees, overseeing travel arrangements, preparing meeting materials for the VPO and other members of the Operations Team.

Weekly/Monthly reports, and coordinating check-in meetings

Converting hard files (i.e. documents, files, and correspondence etc.) to electronic files and organizing in a logical and searchable manner

Club level support for General Managers and their Senior Leadership Teams

Participating in weekly meetings and administering meeting dashboard for agenda, cascading messages, action items, decisions, and providing administrative follow up as needed

Writing correspondence for the Executive Team and National Directors and ensuring information is distributed accurately, with good grammar and in a timely manner

Large scale event coordinating with cost comparisons

Preparing expense reports and completing reimbursement requests

Screening telephone calls and reviewing mail

Assist procurement department with processing Credit Applications for club vendors

Coordinating high level meetings with CEO and President and working with Executive Assistant staff on a regular basis (right now I'm doing this because nobody else has time)

Able to deal with a wide variety of confidential information discretely on a regular basis
Our next Operations Administrator to the Operations Team:
Is energetic and highly motivated with 5 or more years of relevant stable work experience

Is always willing to take on more responsibility

Has a strong sense of urgency and attention to detail

Is able to adapt under pressure and problem solve without disruption

Demonstrates exceptional written and verbal communication skills

Possesses excellent time management and problem solving skills with significant experience effectively managing multiple projects simultaneously

Has a proven track record of being calm and focused under pressure, resolving and diffusing sensitive situations, maintaining professional interactions with associates at all levels and establishing rapport quickly

Has the ability to influence others and communicate tactfully to accomplish complex assignments requiring cross-organization cooperation

Has the ability to learn quickly and apply knowledge to systems and processes to improve organizational efficiency

Advanced proficiency in Microsoft Office applications and operation of office equipment

Professional attitude with the ability to have fun and has genuine interest in building a positive work environment and connections
To apply please email your CV / resume to: talent@midtown.com
This job description is intended to describe the general requirements for the position. It is not a complete statement of duties, responsibilities or requirements. Other duties not listed here may be assigned as necessary to ensure the proper operations of the department.
MIDTOWN is an Equal Opportunity Employer.
Apply Now
Not ready to apply?

Join our Talent Pool
About Us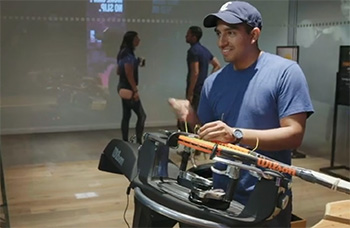 We work at Midtown to inspire people to transform their lives–and we do our job well. Our members stay longer than any other major athletic club chain in North America because we are committed to providing resort-like environments, personal attention, and strong communities at every one of our clubs. We believe all three of those pillars start with attracting and growing rock star talent at every level of our organization.
Who We Want
We're looking for people that share our core values: kind individuals who want to win together, see things as the glass half full, are passionate about helping others, and strive to always be better than yesterday.
Associate Benefits
Members of the Midtown team receive:
Complimentary club membership
Discounts on Midtown products and services
Access to hundreds of free courses for professional development
Health insurance for eligible full-time associates (30+ hours a week)
And more