Requisition ID:
R-3370
Job Category:
Other
Job Type:
Job Location:
6105 Avenue du Boisé
Montreal, QC H3S 2V9
Share This Job On:
Apply Now
Responsable du Spa / Spa Manager Job in Montreal
Midtown est à la recherche d'un responsable du spa pour ajouter à notre équipe de spa de classe mondiale.
Nos responsables du spa sont des professionnels chevronnés de la gestion de spa/salon dédiés à créer un sentiment de bien-être et une expérience sociale exceptionnelle pour nos membres et invités. En tant que partie intégrante de notre équipe, ils ont un impact positif sur notre entreprise en :
Responsabilités du responsable du spa :
Assurer un leadership pratique et fournir des services de spa aux membres
Établir et maintenir des relations positives avec les membres, les invités et les associés
Recruter, embaucher, former et motiver les associés du spa pour dépasser les objectifs financiers et fournir un service exceptionnel
Mettre en œuvre et gérer des programmes qui garantissent une formation efficace du personnel et une évaluation du rendement au travail
Diriger par l'exemple et démontrer constamment une conduite professionnelle et être social avec les membres, les invités et les associés
Préparer et maintenir les horaires de travail hebdomadaires des associés du spa
Organiser, promouvoir et participer à des événements qui augmentent la notoriété des offres de spa
Réalisation d'analyses de marché pour assurer la compétitivité et la viabilité du spa
Assurer le respect des directives d'assainissement et de santé établies par le ministère de la Santé
Assurer la conformité aux directives de licence provinciale pour le salon et les fournisseurs
Créer, réviser et améliorer les processus et procédures du service de spa
Développer des procédures pour contrôler et surveiller avec précision l'inventaire des produits, des fournitures et de l'équipement du salon
Développer des procédures pour un service et des normes de classe mondiale
Établir, mettre en œuvre et appliquer tous les objectifs, normes, lignes directrices et procédures du service
Traiter la paie et préparer les budgets, les relevés d'écarts réguliers et les audits annuels
Surveiller les objectifs mensuels et tenir les techniciens responsables de l'atteinte des objectifs de revenus
Maintenir la connaissance des tendances de l'industrie du spa et introduire les meilleures pratiques au Midtown Spa
Exigences du gestionnaire de spa :
Au moins 2 ans d'expérience pratique en gestion de spa
Au moins 5 ans d'expérience en spa/salon
Être licencié en tant que massothérapeute, cosmétologue, esthéticienne
Connaissance approfondie des services, produits et traitements du spa
Solides capacités de leadership avec intégrité personnelle et solide éthique de travail
Capacité à embaucher, former et diriger des associés productifs soucieux du service
Une compréhension globale des opérations de spa/salon avec un sens aigu des affaires
Connaissance des opérations de vente au détail et des systèmes d'inventaire
Midtown is looking for a Spa Manager to add to our world-class spa team.
Our Spa Managers are seasoned spa/salon management professionals dedicated to creating a sense of well-being and an exceptional social experience for our members and guests. As an integral part of our team they have a positive impact on our business by:
Spa Manager responsibilities:
Providing hands-on leadership and delivering spa services to members
Building and maintaining positive member, guest, and associate relationships
Recruiting, hiring, training and motivating spa associates to exceed financial objectives and provide exceptional service
Implementing and managing programs that ensure effective staff training and assessment of job performance
Leading by example and consistently demonstrating professional conduct and being social with members, guests, and associates
Preparing and maintaining weekly work schedules for spa associates
Organizing, promoting and participating in events that increase awareness of spa offerings
Conducting market analysis to ensure competitiveness and viability of spa
Ensuring compliance with sanitation and health guidelines established by the Department of Health
Ensuring compliance with state license guidelines for salon and providers
Creating, reviewing and improving spa department processes and procedures
Developing procedures to accurately control and monitoring inventory of salon products, supplies and equipment
Develop procedures for world class service and standards
Establishing, implementing, and enforcing all departmental objectives, standards, guidelines and procedures
Processing payroll and preparing budgets, regular variance statements and annual audits
Monitoring monthly goals and holding technicians accountable for meeting revenue objectives
Maintaining knowledge of Spa industry trends and introducing best practices to Midtown Spa
Spa Manager requirements:
At least 2 years hands-on spa management experience
At least 5 years of spa/salon experience
Being licensed as a massage therapist, cosmetologist, esthetician or nail technician is a plus
Expert knowledge of spa services, products, and treatments
Strong leadership abilities with personal integrity and strong work ethic
Ability to hire, train and lead productive service-minded associates
A comprehensive understanding of spa/salon operations with a strong business acumen
Knowledge of retail operations and inventory systems
This job description is intended to describe the general requirements for the position. It is not a complete statement of duties, responsibilities or requirements. Other duties not listed here may be assigned as necessary to ensure the proper operations of the department.
MIDTOWN is an Equal Opportunity Employer.
Apply Now
Not ready to apply?

Join our Talent Pool
About Us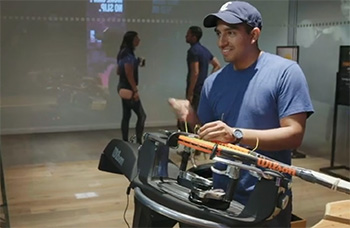 We work at Midtown to inspire people to transform their lives–and we do our job well. Our members stay longer than any other major athletic club chain in North America because we are committed to providing resort-like environments, personal attention, and strong communities at every one of our clubs. We believe all three of those pillars start with attracting and growing rock star talent at every level of our organization.
Who We Want
We're looking for people that share our core values: kind individuals who want to win together, see things as the glass half full, are passionate about helping others, and strive to always be better than yesterday.
Associate Benefits
Members of the Midtown team receive:
Complimentary club membership
Discounts on Midtown products and services
Access to hundreds of free courses for professional development
Health insurance for eligible full-time associates (30+ hours a week)
And more