Requisition ID:
R-761
Job Category:
Other
Job Type:
Full Time
Job Location:
2211 Waukegan Road
Bannockburn, IL 60015
Share This Job On:
Apply Now
Retail / Pro Shop Manager Job in Bannockburn
Midtown is looking for an experienced Retail / Pro Shop Manager to join our world-class team. Our pro shop is currently open daily from 9am-5pm. Candidate must be able to work 40 hours per week including one weekend day.
The Position
As a Retail Manager, you will create/direct appealing and eye-catching visual displays that lead the customer through the entire store.  You will collaborate with club leadership on upcoming shop and club initiatives, special promotions and key messages to develop visual strategy and design.  You will spearhead the success of this high volume boutique pro-shop and serve our members by:
Working with sales associates and Midtown buying team to place future and immediate/fill-in orders.

Attending local trade shows and showrooms.

Overseeing annual budgets, monthly P/L and variance reports.

Receiving inventory and tagging merchandise for display.

Re-Merchandising and changing displays

Performing monthly closing/quarterly inventory

Approving and recording all invoices related to retail orders

Hiring, training, coaching and leading retail associates.

Managing and overseeing associate schedules.

Performing annual associate performance reviews.

Scheduling and directing retail staff meetings

Attending and planning department and club events
Requirements
7+ years retail/sales experience

2+ years management experience

Have knowledge and experience of promoting and displaying merchandise

Knowledge of racquet sports is ideal (will be selling/recommending tennis racquets)

Possess an engaging and friendly personality

Demonstrate above average math skills

Possess an optimistic disposition

Possess exceptional organizational skills

Demonstrate strong customer service abilities

Enjoy working collaboratively with others as a team player

Ability to train and teach team members

Possess problem solving skills
*To submit application, please apply online or send resume to nicole.masri@midtown.com 
This job description is intended to describe the general requirements for the position. It is not a complete statement of duties, responsibilities or requirements. Other duties not listed here may be assigned as necessary to ensure the proper operations of the department.
MIDTOWN is an Equal Opportunity Employer.
Apply Now
Not ready to apply?

Join our Talent Pool
About Us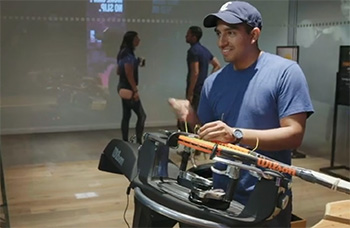 We work at Midtown to inspire people to transform their lives–and we do our job well. Our members stay longer than any other major athletic club chain in North America because we are committed to providing resort-like environments, personal attention, and strong communities at every one of our clubs. We believe all three of those pillars start with attracting and growing rock star talent at every level of our organization.
Who We Want
We're looking for people that share our core values: kind individuals who want to win together, see things as the glass half full, are passionate about helping others, and strive to always be better than yesterday.
Associate Benefits
Members of the Midtown team receive:
Complimentary club membership
Discounts on Midtown products and services
Access to hundreds of free courses for professional development
Health insurance for eligible full-time associates (30+ hours a week)
And more