Requisition ID:
R-544
Job Category:
Other
Job Type:
Full Time
Job Location:
3611 N Kedzie Ave
Chicago, IL 60618
Share This Job On:
Apply Now
Senior Software Engineer Job in Chicago
Midtown is seeking a Senior Software Engineer to join our world-class team at our Chicago headquarters.
The Position
Our Senior Software Engineer will help lead the digital transformation of our core applications and services. As Midtown pursues a large undertaking over the next 3 to 5 years to transform all our technology platforms, we look to build a strong strategy for scaling, modernizing, and automating all applications and processes involved. This very hands-on technical role will collaborate with company-wide departments and teams to design, develop, and support applications and services for the future.
The primary responsibilities are:
Integrate enterprise systems while in close discussions with other information technology leaders.

Make development decisions while considering our long-term strategy and vision.

Provide technical expertise over the course of the software development life cycle.

Ensure technical designs comply with architecture guiding principles.

Assist in automating the building and deployment of our applications.

Contribute to the strategy around data security and data governance.

Design applications and services for high availability while supporting a hybrid (on-prem/cloud) infrastructure.
Software Engineering requirements:
BS in Engineering, Information Technology, or equivalent work experience.

8+ years of IT experience with at least 3 years in a lead engineer capacity.

Knowledge of one or more frameworks and/or libraries: Node.js, Angular, and/or TypeScript.

Experience with development around Azure and/or GCP cloud resources.

Understanding of cloud application functions: containerization, container orchestration, messaging services, and/or event handlers.

Proven experience with service-oriented architectures and methodologies: API, RESTful API, SOAP, and/or data formats (XML, JSON).

Proficient hands-on experience creating and maintaining relational database concepts with MS SQL Server.

Fundamental knowledge of agile development methodologies.

Experience with various collaboration tools: Azure DevOps, JIRA, and/or MS Teams.

Strong communication and problem-solving skills.

Eager to work with multiple teams and projects at the same time.
*To submit an application, please apply online or send resume to nicole.masri@midtown.com 
This job description is intended to describe the general requirements for the position. It is not a complete statement of duties, responsibilities or requirements. Other duties not listed here may be assigned as necessary to ensure the proper operations of the department.
MIDTOWN is an Equal Opportunity Employer.
Apply Now
Not ready to apply?

Join our Talent Pool
About Us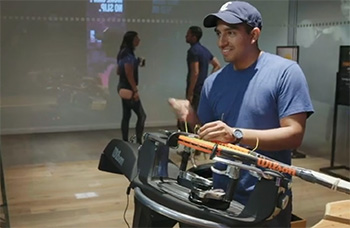 We work at Midtown to inspire people to transform their lives–and we do our job well. Our members stay longer than any other major athletic club chain in North America because we are committed to providing resort-like environments, personal attention, and strong communities at every one of our clubs. We believe all three of those pillars start with attracting and growing rock star talent at every level of our organization.
Who We Want
We're looking for people that share our core values: kind individuals who want to win together, see things as the glass half full, are passionate about helping others, and strive to always be better than yesterday.
Associate Benefits
Members of the Midtown team receive:
Complimentary club membership
Discounts on Midtown products and services
Access to hundreds of free courses for professional development
Health insurance for eligible full-time associates (30+ hours a week)
And more