Requisition ID:
R-2680
Job Category:
Other
Job Type:
Job Location:
6105 Avenue du Boisé
Montreal, QC H3S 2V9
Share This Job On:
Apply Now
Spa Receptionist Job in Montreal
Midtown est à la recherche d'un réceptionniste pour le spa pour aider notre équipe de spa à dorloter nos clients.
Le poste
Nos réceptionnistes de spa créent des impressions positives durables en offrant des salutations enthousiastes, une assistance chaleureuse et des adieux sincères. Qu'il s'agisse de prendre des réservations ou d'aider un client à se sentir à l'aise en attendant un traitement, ils jouent un rôle important en dépassant les attentes de service et en procurant un sentiment d'appartenance.
Les principales responsabilités sont :
·         Saluez les membres par leur nom et avec le sourire
·         Maintenir la propreté de la réception et de la boutique du spa
·         Répondre aux appels entrants
·         Répondre aux questions et aux préoccupations des membres au besoin
·         Fournir un soutien supplémentaire à l'équipe du spa si nécessaire
Exigences de la réceptionniste du spa :
·         La passion du service et de l'assistance de qualité
·         Capacité à effectuer plusieurs tâches à la fois, à faire preuve d'initiative et à avoir une solide éthique de travail
·         Excellentes compétences interpersonnelles et de communication
·         Une expérience antérieure en spa est fortement préférée
Midtown is looking for a Spa Receptionist to help our Spa team pamper our clients.
The Position
Our Spa Receptionists create positive lasting impressions by providing enthusiastic greetings, warm assistance and genuine farewells.  Whether taking reservations or helping a guest feel comfortable while waiting for a treatment, they play an important role by exceeding service expectations and providing a sense of belonging.
The primary responsibilities are:
·         Greet members by name and with a smile
·         Maintain cleanliness of the spa's front desk and shop
·         Answer incoming calls
·         Respond to members' questions and concerns as needed
·         Provide additional support to the Spa team as needed
Spa Receptionist Requirements:
·         A passion for quality service and assistance
·         Ability to multi-task, demonstrate initiative and strong work ethic
·         Excellent interpersonal and communication skills
·         Previous spa experience is strongly preferred
This job description is intended to describe the general requirements for the position. It is not a complete statement of duties, responsibilities or requirements. Other duties not listed here may be assigned as necessary to ensure the proper operations of the department.
MIDTOWN is an Equal Opportunity Employer.
Apply Now
Not ready to apply?

Join our Talent Pool
About Us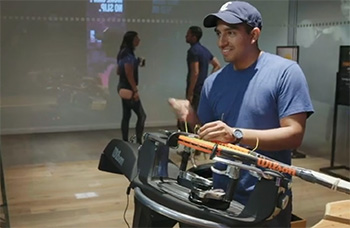 We work at Midtown to inspire people to transform their lives–and we do our job well. Our members stay longer than any other major athletic club chain in North America because we are committed to providing resort-like environments, personal attention, and strong communities at every one of our clubs. We believe all three of those pillars start with attracting and growing rock star talent at every level of our organization.
Who We Want
We're looking for people that share our core values: kind individuals who want to win together, see things as the glass half full, are passionate about helping others, and strive to always be better than yesterday.
Associate Benefits
Members of the Midtown team receive:
Complimentary club membership
Discounts on Midtown products and services
Access to hundreds of free courses for professional development
Health insurance for eligible full-time associates (30+ hours a week)
And more