Requisition ID:
R-3555
Job Category:
Fitness Coach
Job Type:
Job Location:
2211 Waukegan Rd
Deerfield, IL 60015
Share This Job On:
Apply Now
Sports Performance Fitness Coach Job in Deerfield
Midtown is searching for a Fitness Coach / Personal Trainer to further enhance our High Performance Youth Tennis programming. 
 
What you'll do: Inspire members to transform their lives through education, movement, and commitment. Specifically, our High Performance youth tennis players – ages 12-18. Working with our High Performance Tennis Manager you will create a fitness regimen encompassing both group and one-on-one sessions that compliment the tennis coaching the athletes are receiving on the court and improve their performance.  
Our High Performance Fitness Coach will need to integrate themselves into the lives and schedules of the athletes they are training by knowing their competition schedule, watching them practice on the court, and monitoring their progress. Training focus would be sport-specific and individual-specific depending on what each athlete needs.  
Fitness coaches are rewarded for engagement and educational development.  Full-Time Coaches are offered medical, dental, vision insurance, Vacation/ Sick Time off and 401K opportunities. 
Work with the club and tennis pros to build your client base. 

Offer personal attention and expertise to youth athletes through thoughtful program design that incorporates multidirectional speed and agility, strength, power, and other sports performance metrics. 

Maintain a consistent and professional working schedule that meets the needs of your clients and potential clients. 
A love of coaching and movement. 

Tennis experience or a knowledge of the movements needs in the game 

Possess our core values: Win Together, Glass Half full Mindset, Be Passionate about helping others, always strive to be better than yesterday and Be Kind. 

Maintain at least one nationally recognized Personal Training certification. Performance Specialist Certification a plus.  
This job description is intended to describe the general requirements for the position. It is not a complete statement of duties, responsibilities or requirements. Other duties not listed here may be assigned as necessary to ensure the proper operations of the department.
MIDTOWN is an Equal Opportunity Employer.
Apply Now
Not ready to apply?

Join our Talent Pool
About Us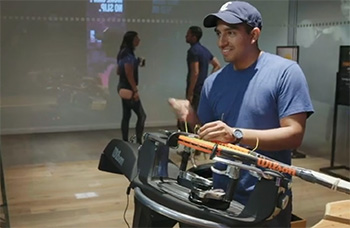 We work at Midtown to inspire people to transform their lives–and we do our job well. Our members stay longer than any other major athletic club chain in North America because we are committed to providing resort-like environments, personal attention, and strong communities at every one of our clubs. We believe all three of those pillars start with attracting and growing rock star talent at every level of our organization.
Who We Want
We're looking for people that share our core values: kind individuals who want to win together, see things as the glass half full, are passionate about helping others, and strive to always be better than yesterday.
Associate Benefits
Members of the Midtown team receive:
Complimentary club membership
Discounts on Midtown products and services
Access to hundreds of free courses for professional development
Health insurance for eligible full-time associates (30+ hours a week)
And more