Requisition ID:
R-3772
Job Category:
Group Exercise
Job Type:
Job Location:
6105 Avenue du Boisé
Montreal, QC H3S 2V9
Share This Job On:
Apply Now
Studio Fitness Instructor Job in Montreal
Midtown est à la recherche d'un instructeur de Pilates au sol et barre pour développer et enseigner un contenu de qualité pour notre gymnase (théâtre) et notre studio Samadhi. Les instructeurs du Midtown sont aussi impatients d'apprendre que d'enseigner. Nos instructeurs sont encouragés à penser à Midtown comme un endroit pour bâtir votre carrière. Avec plusieurs studios boutique, nous proposons une formation et des programmes qui favorisent la capacité à diriger une variété de cours dans une gamme de studios boutique ou à devenir des entraîneurs personnels certifiés.
Le poste
Nos instructeurs de cours en groupe sont à la fois interprètes et coachs, et donnent vie à leurs passions dans nos programmes exclusifs. Vous dirigerez des cours avec votre marque personnelle de performance qui engage, dynamise et divertit nos membres avec une expérience audiovisuelle complète.
Les principales responsabilités sont :
. Offrir des cours expérientiels
. Construire votre communauté
. Inspirer nos membres avec une envie de revenir
Exigences de l'instructeur :
. Une passion pour la création d'expériences inspirantes.
. Un amour de la performance et du mouvement.
. Avoir certification d'instructeur de pilates au sol (Pilates au sol)
Midtown is searching for a Studio Fitness Instructor in  Pilates Mat and Barre to develop and teach quality content for our Gym (Theater) and Samadhi studio.
Midtown instructors are as excited to learn as they are to teach. Our instructors are encouraged to think of Midtown as a place to build your career. With multiple boutique studios, we offer education and programs that promote the ability lead a variety of classes across a range of boutique studios, or become certified personal trainers.
The Position
 
Our Studio Fitness instructors are equal parts performer and instructor—and bring their passions to life in our signature programs. You will lead classes with your personal brand of performance that engages, energizes, and entertains our members with a full audio/visual experience.
The primary responsibilities are:
Delivering experiential classes

Building your community

Inspiring our members with a yearn to return
instructor requirements:
A passion for crafting inspiring experiences.

A love of performance and movement.

Have at least one nationally recognized Pilates Mat certification (Pilates Mat)
This job description is intended to describe the general requirements for the position. It is not a complete statement of duties, responsibilities or requirements. Other duties not listed here may be assigned as necessary to ensure the proper operations of the department.
MIDTOWN is an Equal Opportunity Employer.
Apply Now
Not ready to apply?

Join our Talent Pool
About Us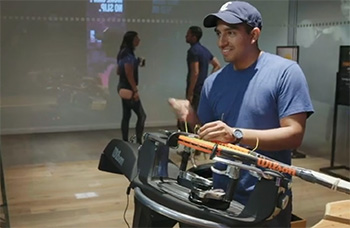 We work at Midtown to inspire people to transform their lives–and we do our job well. Our members stay longer than any other major athletic club chain in North America because we are committed to providing resort-like environments, personal attention, and strong communities at every one of our clubs. We believe all three of those pillars start with attracting and growing rock star talent at every level of our organization.
Who We Want
We're looking for people that share our core values: kind individuals who want to win together, see things as the glass half full, are passionate about helping others, and strive to always be better than yesterday.
Associate Benefits
Members of the Midtown team receive:
Complimentary club membership
Discounts on Midtown products and services
Access to hundreds of free courses for professional development
Health insurance for eligible full-time associates (30+ hours a week)
And more