Requisition ID:
R-3268
Job Category:
Racquet Sports
Job Type:
Job Location:
135 Interstate North Parkway
Atlanta, GA 30339
Share This Job On:
Apply Now
Tennis Coach Job in Atlanta
Midtown is looking for a Tennis Coach to engage members and foster their love of tennis.
The Position
We opened our doors 50 years ago as Chicago's first indoor tennis club. And we've been leaders in tennis ever since. Our goal has always been to improve the game of tennis and we've moved the needle forward in so many ways. Our founders have been a part of making the game accessible to as many people as possible through multiple ways, from creating Tennis in No Time, designed to teach adult beginners to play tennis and developing the Junior Development Program that became the USTA model of 10 and under tennis, we want the world to have the same love of tennis that we do. Our tennis professionals are some of the best in the game and we want them to bring their enthusiasm and skill to the courts.
Job Description: To provide instruction and leadership using the National Standards for Sports Coaches (NSSC) best practices in guiding youth (age 6-14) and adults (age 18+) including age-appropriate skill progression; athlete-centered coaching; a safe, positive, risk-free, and inclusive learning environment; and age-appropriate contest management.

Responsibilities:
Use an athlete-centered coach philosophy (1) and model appropriate ethical behavior (7)

Adhere to program rules and guidelines (4), and the organization's code of conduct (6)

Create a safe sport environment and develop a culture free from harassment and abuse (12)

Build inclusive practices into the program for all groups aligned with current legal and ethical guidelines (22, 23)

Develop a positive climate by emphasizing effort and improvement, enjoyment, and learning from mistakes (21)

Understand how to develop athletic potential, enhance physical literacy, and encourage lifelong physical activity through sport (2)

Implement practice plans provided by the administration that focus on the technical skills of the sport (30) and are based on age-appropriate progression (24, 32)

Teach sport-specific skills, life skills, and competitive strategies relative to the organization's mission (4) and provide varied instructional techniques (31)

Demonstrate self-control in competitive situations (37) and possess a willingness to improve coaching practice through the organization's training and coach education (40)

Identify potential risks associated with the sport (13, 15) and understand the appropriate protocol in responding to common injuries (17) and helping athletes "Return to Play" following an injury (18)
Qualifications:
Basic Coach Education Course

CPR/First Aid Training

Safe Sport Training

Successful completion of a background check
Preferred Qualifications:
Previous experience coaching youth sport and adult recreational play

Coursework and/or training relative to coaching youth

Possess one nationally recognized certification in tennis (preferred)

Possess a NTRP rating of 4.0 or higher and preferably have collegiate playing experience
*To submit application, please apply online or send resume to talent@midtown.com
This job description is intended to describe the general requirements for the position. It is not a complete statement of duties, responsibilities or requirements. Other duties not listed here may be assigned as necessary to ensure the proper operations of the department.
MIDTOWN is an Equal Opportunity Employer.
Apply Now
Not ready to apply?

Join our Talent Pool
About Us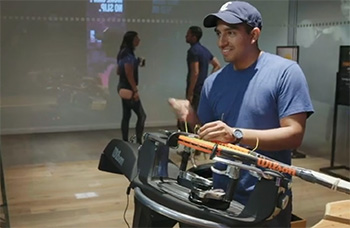 We work at Midtown to inspire people to transform their lives–and we do our job well. Our members stay longer than any other major athletic club chain in North America because we are committed to providing resort-like environments, personal attention, and strong communities at every one of our clubs. We believe all three of those pillars start with attracting and growing rock star talent at every level of our organization.
Who We Want
We're looking for people that share our core values: kind individuals who want to win together, see things as the glass half full, are passionate about helping others, and strive to always be better than yesterday.
Associate Benefits
Members of the Midtown team receive:
Complimentary club membership
Discounts on Midtown products and services
Access to hundreds of free courses for professional development
Health insurance for eligible full-time associates (30+ hours a week)
And more