Requisition ID:
R-3133
Job Category:
Other
Job Type:
Full Time
Job Location:
2444 N Elston Avenue
Chicago, IL 60647
Share This Job On:
Apply Now
Vice President of Member Experience Job in Chicago
About Us:
We are ultimate team players who exist to inspire people to transform their lives. We are passionate about people being the best versions of themselves and maximizing their impact on the world. We believe that active, social people lead happier healthier lives, and we are all-in on continuous improvement; being better than yesterday. 
About the Role:
We are seeking a talented and dynamic VP of Member Experience, who can operate with responsibility-centric leadership to join our team. As our VP of Member Experience, you will collaborate with the Executive Team of Midtown; you will join a team with a focus on organizational health and be expected to contribute as a strategic business partner while playing a key role in developing, monitoring and evaluating overall key product strategy. You will have primary responsibility for all of Midtown's National Director team (Racquet Sports, Food & Beverage, Fitness Programming), who are all experts in their individual fields, and you will help inform business decisions and strategy by providing exceptional insight and leadership to achieve our growth goals. You should have experience working in an entrepreneurial company, having managed multiple aspects of a multi-tiered product portfolio. You will interact closely with all members of the executive team and be expected to contribute as a partner and advisor to that team. You will be dialed-in to our key product portfolio and be able to provide key information and analytics across all areas of the product portfolio and member experience journey.
You will report to the President and sit on the executive leadership team at Midtown Athletic Club. The team has a hybrid work model, including a mix of working out of the corporate office in Chicago, on-site at our clubs, and remotely.
How you'll Contribute:
You will work with the Executive team, helping to curate, implement and monitor the company's vast product portfolio to meet identified target personas and drive attendance, usage and unique utilization.

You will engage with operational leaders to drive business results and achieve annual plans and other financial targets.

You will drive performance across the business, through utilization of key performance indicators and by adeptly presenting relevant information at and too all levels of the organization.

Create a product portfolio which is attractive to existing members and, in addition, keys in on potential member recruitment needs and industry trends.

Develop and coach a strong team of product directors to create a brand standard and a clear, distinct point of view for each major product category.

Operate collaboratively with Vice President of Operations and Vice President of Marketing to ensure products are communicated effectively and delivered with excellence and consistency across all Clubs.

Work closely with the Vice President of Sales to ensure company sales metrics are met based on the high level of product knowledge you and your team ultimately create.

Be the Midtown product evangelist and owner of Midtown's product vision execution.

Be constantly looking for ways to deliver on unmet customer demand.

Support portfolio review, including ROI analysis, product lifecycle management and balanced portfolio optimization to enhance profitability and ensure long-term growth.  

Review and validate annual business plans, periodic financial forecasts and ad hoc financial analysis to ensure the business leaders understand the implications of the analysis to ensure timely, effective and well-informed decisions are made.

Coach, mentor and develop the teams to ensure that evolving, leadership and expertise is in place for continual improvement of the efficiency and effectiveness of the group.

Maintain close connections with various groups, vendors, competitors and partners to develop events/concepts and packages to support member retention and ensure up to date knowledge of key changes and developments across all the product portfolios.
Job Requirements:
Education
Bachelor's degree preferred but not required.
Experience
10+ years of experience demonstrating progressive growth in a key product category and leadership responsibilities with recent executive level seniority.
Knowledge, Skills & Abilities
Team player, no matter the position

Enjoys using the product and can lead from the front

Proven track record of business performance and of being a collaborative strategic partner.

Experience commercializing products and driving performance.

Experience with transformational implementation leading change with vision, skill and understanding.

Strategic thinker with the desire to assist implementing strategic initiatives regardless of function.

Internally motivated self-starter, comfortable with ambiguity.

Ability to plan, organize, establish priorities and meet goals and timelines.

Strong verbal and written communication skills.

Passion and proven ability to cultivate top talent and lead diverse, cross-departmental teams.

Outstanding financial acumen blended with business partnership and leadership skills.

Strong desire to dive into the operations of a business and get hands dirty where required.

Provide sound business judgement, strategic thinking and financial and business perspective across the organization.

Exhibit outstanding critical thinking skills, including the ability to analyze data, identify trends, pinpoint problems and root causes, ask probing questions and develop innovative solutions.

This is not a desk-based job – you will be expected to be in the clubs and working with the teams on a very regular basis. Travel to out of State Clubs is also expected.
This job description is intended to describe the general requirements for the position. It is not a complete statement of duties, responsibilities or requirements. Other duties not listed here may be assigned as necessary to ensure the proper operations of the department.
MIDTOWN is an Equal Opportunity Employer.
Apply Now
Not ready to apply?

Join our Talent Pool
About Us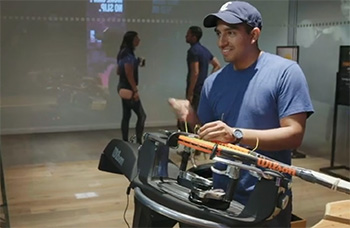 We work at Midtown to inspire people to transform their lives–and we do our job well. Our members stay longer than any other major athletic club chain in North America because we are committed to providing resort-like environments, personal attention, and strong communities at every one of our clubs. We believe all three of those pillars start with attracting and growing rock star talent at every level of our organization.
Who We Want
We're looking for people that share our core values: kind individuals who want to win together, see things as the glass half full, are passionate about helping others, and strive to always be better than yesterday.
Associate Benefits
Members of the Midtown team receive:
Complimentary club membership
Discounts on Midtown products and services
Access to hundreds of free courses for professional development
Health insurance for eligible full-time associates (30+ hours a week)
And more