Requisition ID:
R-3692
Job Category:
Other
Job Type:
Job Location:
2444 N Elston Avenue
Chicago, IL 60647
Share This Job On:
Apply Now
Regional Sales Support Specialist Job in Chicago
Want to try something new?  Are you comfortable with technology and with the idea of helping someone achieve their aspirations?  Have any of your friends told you you're really great with people?
Midtown is searching for a Regional Sales Support Specialist (RS3) to help partner with our membership advisors to connect with our prospective members and help guide them towards coming in to meet the team, tour the clubs, and explore all the amazing experiences Midtown has to offer.  We'd love to talk with you about it!
The Position
You're our ideal candidate for the Regional Sales Support Specialist (RS3) role if you're an empathic listener, a proactive helper, you can be inspiring and be inspired, and always at ease in a fun and professional environment.
As an integral part of our membership team, an RS3 will have a positive, supporting impact on the success of our club teams, and always on the lives of others. Our (RS3) are Midtown's first line of problem-solvers, sharing the club story and all the benefits of becoming a part of our fitness community.
The primary responsibilities of the Regional Sales Support Specialist (RS3) are:
Being super self-driven, RS3s build out their days to initiate conversations with our warmest prospective members through a combination of phone and digital communication inquiries.

In those self-built days, we look for our RS3s to help deliver on a high level of outreach in a fast-paced environment, able to respond to inquiries within minutes; that last part is critical in the journey!

Our RS3s are able to personalize the experience with each engaged prospect, really talking and connecting with people.  Our prospects initiate contact with us, and we listen, respond, and gather their aspirations to pass onto our touring advisors in the clubs.

Being able to learn all about our clubs!  The RS3 team members will be eager learn all about our clubs and others in the industry to comfortably speak to and educate on our product, services, people and ultimately our competitive advantages.

Being able to contribute as an individual player on a team, but also enjoy being part of team environments and giving input and thoughts in group meetings.
Regional Sales Support Specialist (RS3) requirements:
Previous hospitality, sales or customer service experience with a proven track record of success.

Exceptional interpersonal skills.

Willing to ask engaging questions in the interest of changing lives.

Extremely effective communication skills.

Great teammate with a passion for helping others on the team win as well.

Passionate about helping people achieve aspirations and goals.

Positive, can-do attitudes.

Always willing to improve, learn, and get better every day.
To apply, send resume/ CV to: Rich.Fichter@midtown.com
This job description is intended to describe the general requirements for the position. It is not a complete statement of duties, responsibilities or requirements. Other duties not listed here may be assigned as necessary to ensure the proper operations of the department.
MIDTOWN is an Equal Opportunity Employer.
Apply Now
Not ready to apply?

Join our Talent Pool
About Us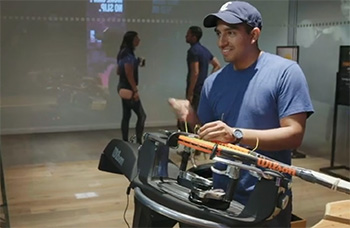 We work at Midtown to inspire people to transform their lives–and we do our job well. Our members stay longer than any other major athletic club chain in North America because we are committed to providing resort-like environments, personal attention, and strong communities at every one of our clubs. We believe all three of those pillars start with attracting and growing rock star talent at every level of our organization.
Who We Want
We're looking for people that share our core values: kind individuals who want to win together, see things as the glass half full, are passionate about helping others, and strive to always be better than yesterday.
Associate Benefits
Members of the Midtown team receive:
Complimentary club membership
Discounts on Midtown products and services
Access to hundreds of free courses for professional development
Health insurance for eligible full-time associates (30+ hours a week)
And more